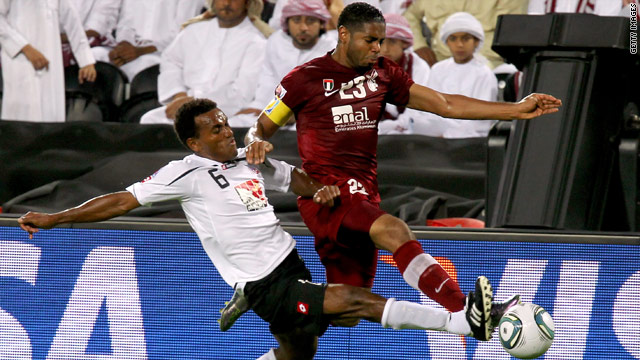 STORY HIGHLIGHTS
Hekari United FC makes debut in FIFA's Club World Cup tournament in Abu Dhabi
The team hails from Papua New Guinea, ranked bottom in the world by FIFA
Hekari lost 3-0 against United Arab Emirates champions Al Wahda in first and only match
The semi-professional PNG team includes fishermen, teachers and policemen
London (England)
-- They hail from a country racked by poverty and political instability, a place where rugby league is the national sport and which FIFA has decided is the worst footballing nation on the planet.
But Papua New Guinea's Hekari United FC made history by gatecrashing the 2010 FIFA Club World Cup in Abu Dhabi, one of the most prestigious tournaments in football.
The event brings together the champions from each of FIFA's six confederations, plus the top domestic team of the host nation, to crown the world's best club side.
This year the likes of FIFA World Player of the Year nominee Wesley Sneijder and former finalist Samuel Eto'o are due to appear.
Barcelona famously won the 2009 tournament to earn a sixth title that year but this time around European Champions League winners Inter Milan, who join at the semifinal stage, are favorites along with Brazil's South American champions Internacional.
Some villagers think I am making up a story that we have qualified
--Hekari striker Kema Jack
Hekari's semi-professional team qualified after beating New Zealand's Waitakere United in the Oceania Champions League (OCL) final.
They played their first and only match of the tournament against United Arab Emirates champions Al Wahda on Wednesday, losing 3-0.
But the result, for once, didn't matter.
It was the first time a club outside of New Zealand and Australia has won Oceania's continental title, quite a feat considering over a third of Papua New Guinea's population live under the poverty line and their national team sits 203rd on FIFA's rankings, joint last.
"In some of our villages we don't have the Internet or newspapers or television," Kema Jack, Hekari's star striker, told FIFA.com before the quarterfinal match against Al Wahda.
Jack, a fisherman by trade, was the top scorer in the OCL last season but that wasn't enough to convince everyone back home that Hekari United was due travel to the Middle East to take part in FIFA's premier club competition.
"They know the big clubs from around the world," he said, "but some villagers from Koparoko where I am from think I am making up a story that we have qualified."
The squad also includes a policeman, a teacher and a United Nations worker.
The club, based in the capital Port Moresby, formed as recently as 2003.
It is bankrolled by John Kapi Natto, a local businessman who has become the Roman Abramovich of Papua New Guinean football after buying the best players from nearby Fiji and the Solomon Islands, with instant success.
Since the Papua New Guinea Soccer League was started in 2006, Hekari have won all four titles.
But even if the club's visit to football's top table has been short, it was worth the journey. Just for finishing last the team will win $500,000 in prize money, over 30 times more than Hekari's record transfer fee.
Meanwhile, Al Wahda can now look forward to a second quarterfinal tie at home on Saturday night, this time against South Korea's Asian Champions League winners Seongnam Ilhwa Chunma.
The home team survived an early attack against Heraki which saw Fahed Masoud make a goal-line clearance from a header by Pita Bolatoga.
Late first-half goals from Brazilians Hugo and Fernando Baiano effectively ended the tie, then substitute Abdulraheem Jumaa wrapped it up with 20 minutes to play.